Inverto's airstream Live™ Gateway is a cost-effective DVB-NIP compatible satellite receiver designed to receive content distributed over broadcast satellites using Inverto's airstream Live content distribution solution. The airstream Live™ Gateway features a DVB-S2X front end and supports content delivery over GSE HEM or DVB-MPE transport streams.
It receives live ABR video streams or any other type of media files including VoD, documents and data files over multicast streams and publish the content over a built-in web server. The airstream Live Gateway features a LAN port and a WLAN Access Point to stream the content to mobile devices directly or through a companion airstream Live Edge server when a larger number of end users' mobile devices shall be supported at the same time.

In addition, the airstream Live™ Gateway can decode the live mABR TV streams and display over a TV screen using its HDMI and analogue A/V ports. The airstream Live Gateway features a USB2.0 port for connecting an optional local storage.
Additional applications:
Access free-to-air satellite mABR TV streams
Built-in dual band Wi-Fi Access Point
Local storage over USB 2.0 port (optional)
DVB-S2X, DVB-NIP compatibility
Reception of mABR video streams, VOD and generic data files over GSE HEM or DVB-MPE transport stream
Content distribution to connected devices over LAN/WLAN
Scalable distribution to a large number of connected devices using an airstream Live Edge server
Available as SDK for integration into 3rd-party mobile apps and STBs
*Product image is for illustration purpose, actual product may look different depending on availability.
Minimum technical specifications

SoC
Montage Symphony4, 2-core Cortex-A7 (ARM) 32-bit SoC, up to 1.2GHz
Decoding
HEVC/H.264/H.263/MPEG-4/MPEG-2/AVS/AVS+/VC1/VP8/VP9 HD decoding
HEVC Main Profile@Level 4.1 and Main 10 Profile @L4.1, High tier, VP8 2K@30fps, VP9 2K@60fps profile 0 and profile 2, MPEG2 MP@ML/HL
DDR
256MB DDR3
External storage
USB 2.0
Wi-Fi
2.4GHz and 5.0GHz IEEE 802.11b/g/n/ac wireless LAN
LAN
10/100 Mbps
Display
HDMI (analog A/V jack port optional)
Satellite input
1x DVB-S/S2/S2X front end, female F-connector, 950-2150 MHz
Wireless connected devices

Up to 3 simultaneous connections over the built-in WLAN access point

Optional scaling and extended coverage over an external Inverto OneNet PROx MESH Wifi6 Router

Power
12Vdc, 1.5A
File formats
ABR files - Apple HLS, MPEG-DASH, CMAF
Generic files – documents, firmware, video, audio, data
IP Protocols
HTTP, HTTPS, Multicast, Unicast, RTP, RTSP, RTMP, FLUTE, DVB-HB
DVB Transport Stream protocols -
GSE HEM, DVB-MPE
Containers
MPEG TS, MP4, RAW RTP H.264/AAC/OPUS, FLV
Options (redesign required)
1x LTE modem with integrated SIM reader for internet connectivity
1x DVB-T2 receiver for free-to-air digital TV
The following diagram describes the system architecture for online education projects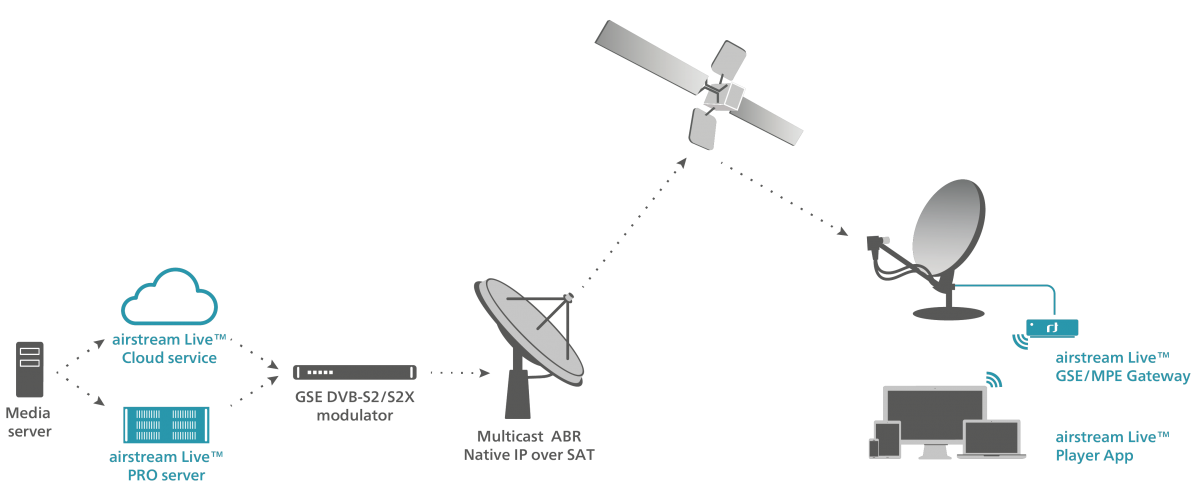 ---
Register & Download
---


Images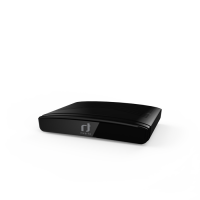 Download