Conceived to address the unique needs of hotels, schools, hospitals and MDUs, airScreen tality™ offers the flexibility, reliability and features required to deploy a secure CATV and/or IPTV solution simply, quickly and at an affordable budget.

Compact & Powerful
The convenient 1 RU package can host up to 6 hot-swappable modules to address the full range of functionalities required to deliver video over coax or IP networks including receiving, de-scrambling, encoding, multiplexing, re-scrambling and modulating a transport stream over QAM, OFDM or IP.

Reliable & Energy efficient
airScreen tality
™
boasts a compact form factor and an energy efficient system design. A built-in service level monitoring and with the optional dual power supply guarantee a non-stop 24/7 operation. Consequently, airScreen tality
™
is an environmental, reliable and space saving design to keep your OPEX low for years to come.
Product Features:



1 RU with up to 6 functional modules
Service level multiplexing
SI/PSI analysis and regeneration
Web-based configuration
FCC and UL approved
Up to 24 receive frequencies
Up to 24 channels HD encoding (via HDMI in inputs)
Up to 48 channels SD encoding (via CVBS inputs)
Up to 48 modulated frequency outputs
Optional 8 Ch modulation module at front panel

Reliability Features:



Hot-swappable modules
Service level monitoring
Dual redundant power supply (optional)
Low power consumption and high reliability
MTBF ≥≥100,000 hours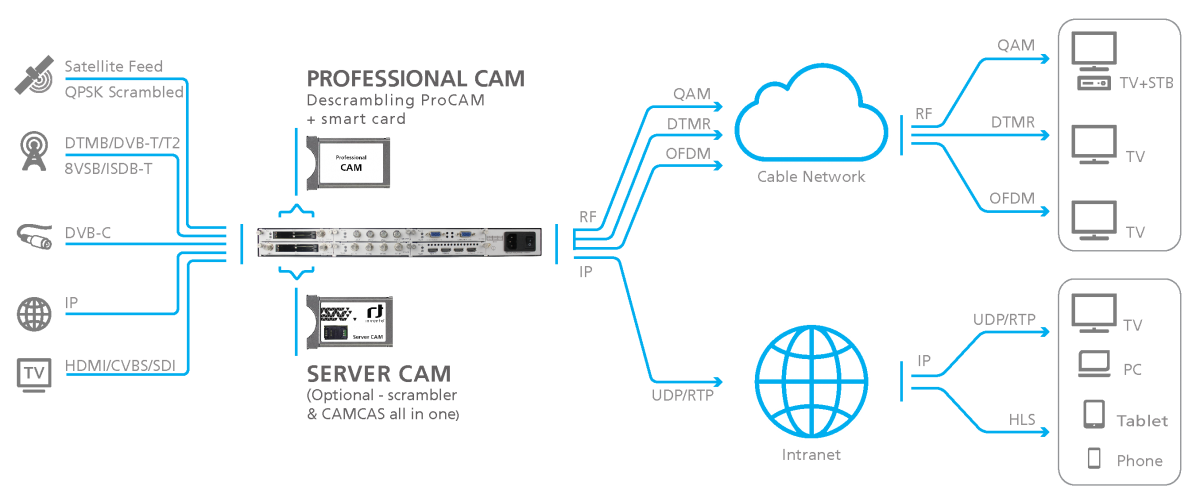 airScreen tality™ 1RU
The airScreen tality
™
1 RU is a perfect choice for smaller scale MATV/CATV/IPTV deployments requiring secure, low power, cost-effective and reliable distribution of video with a simple and easy to use centralized management.
airScreen tality
™
1 RU can receive signals from several sources as depicted above, descramble encrypted programs utilizing CI CAMs, multiplex them into new transport streams and output as QAM/OFDM modulated signals or IPTV streaming (TS over IP) over its built-in GbE interface. Utilizing a unique CAS implementation based on XCrypt's CI-based CAMCAS solution, the programs can be re-encrypted on real-time basis and delivered to the rooms with an end-to-end studio-grade security.
CAMCAS encrypted programs can be decoded by a common XCrypt-embedded STB or with a CI+ XCrypt CAM inserted in the TV set. Deployments over IP networks require the STB or TV set to provide an IP interface.
Free-to-view non-encrypted programs can be streamed over IP (UDP/RTP) to users' PC or mobile devices using supporting player applications.
airScreen tality
™
1 RU supports redundant power supply and is delivered in a compact 1 RU chassis, saving space and operating costs.
Chassis
6 hot-swappable slot
Service level multiplexing
4 x Gigabit RJ45 (embedded):
MPEG TS over UDP/RTT
SPTS/MPTS
Max. 120 inputs and 120 outputs
Optional (either):
Dual redundant power supplies, or
8-Ch modulation module at front


Physical & Environment
Input Voltage 100 VAC ~ 240 VAC
Power 120 W
Chassis dimension (W x H x D) (120 x 177 x 345) mm, 1 RU
Operating temperature 0°C ~ 50°C
Storage temperature -10°C ~ 70°C
Operating Humidity <95%
MTBF ≥100,000 h
Detailed information about this product and the available modules can be found in the PDF file for download.
---


Images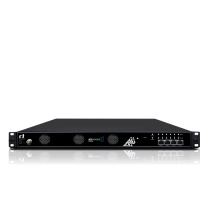 Download